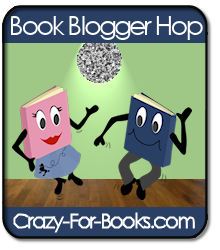 This is an event that happens every week...and I thought this week that I would participate. It sounds like a great way to connect with other bloggers, find some new ones to add to my Google Read (yeah, like I need to add more...LOL), and see what books people are suggesting (as if I need to add more to my TBR pile too)!!
What is
Book Blogger Hop
you ask?
In the spirit of the Twitter Friday Follow, the Book Blogger Hop is a place just for book bloggers and readers to connect and find new book-related blogs that we may be missing out on! This weekly

B

O

O

K

P

A

R

T

Y

is an awesome opportunity for book bloggers to connect with other book lovers, make new friends, support each other, and generally just share our love of books!
Head on over to
Crazy for Books
to read more about the Hop...a couple of rules that need to be followed, and start connecting with other book bloggers.
This week Jennifer is changing things up a bit by asking a question for each hopper to answer...this week the question is:
Tell us your NAME and WHY YOU STARTED BLOGGING
My name is Kara and I started blogging back in 2007. I didn't know the first thing about blogging...my reviews were so simplistic just stating whether I liked or didn't like the book. At that time in my life, I had recently discovered books again after years of not picking one up. I was suffering from depression, feeling lonely, not interested in anything. Then one night I was surfing the Internet and discovered eBooks. The first eBook I read was Christine Feehan's
Dark Prince.
That's all it took...I was hooked on books. I couldn't get enough of them. So I started searching for books to read and discovered Book Blogs. I thought what a great way to keep a record of what I was reading and my thoughts on the books (I had never kept track before). I didn't have a clue what I was doing...didn't think I could do it...thought it was to complicated...but I forged ahead. I decided on Blogger because I thought that was the easiest to use. I started with a very simple design and wrote my first post...knew nothing about sidebars, inserting pictures, linking...but through the help of other bloggers out there, I soon learned and am still learning the tricks of the trade.
I love my blog...it is an outlet for me to discuss the books I love, connect with other people, find out what is happening in the world of books, and make some acquaintances with other bookish people. I so want to go to a book blog convention one of these days...maybe when the kids are older I will find the funds and time to accomplish that goal.
Well, there it is in a nutshell...why I started blogging. What made you start up a blog??